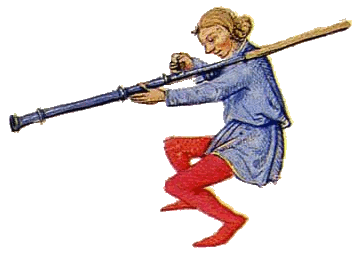 Here we will present some of our equipment. Where possible, we try to support our reconstructions by the following evidence:
preserved original objects
contemporary illustrations
historic written sources
actual scientific literature
To store and keep accessories and bullets ready at the place of action, there were artillery chests. These chests usually had different compartments for the accessories, bullets and powder supplies or Hultzein Ladungen, small wooden containers with single powder loads. Some of these compartments had additional lids to cover them.
Caltorps or mantraps are simple and cheaply producible defensive weapons of enormous tactical effectiveness.
Since the late middle ages it was a widely held belief that Grey Friar Berthold Schwarz from Freiburg had invented blackpowder around 1350. But today historians are certain that the invention took place much earlier and in a different part of the world.